WHO WE ARE
Systematica was founded in 2013 by a talented, dynamic and experienced team of mechanical engineers, passionate about innovation, new technologies and interdisciplinary projects.
With over 50 years of combined experience in aerospace and defence R&D we have accumulated a considerable know-how covering mechanical engineering, product development, model-based design and embedded systems. On top of this, we benefit from the knowledge pool of our network of contacts in the academic world and in the industry.
WHAT WE DO
We provide a comprehensive range of engineering services focused on the development of new products.
We are specialized in the initial part of the development process that covers requirements specification, concepts creation, system design and optimization, and prototypes construction. It is here, that our main expertise, such as system modeling, embedded system and technical programming, finds application.
As a complement we also offer structural, fluid dynamic and thermal analysis services, as they are often part of the design process. For very specific topics in these fields we rely on our network of very competent external Partners.
OUR PHILOSOPHY
Our focus is on a balanced and effective development in terms of innovative technological solutions and cost optimized implementation.
At systematica we strongly believe in the benefits of model-based design to greatly reduce the technological, financial and planning risks in innovation, therefore bringing projects more easily, consistently and predictably toward success.
We are engineers with heart and soul, and strongly believe in the enhancement of quality of life through progress and conscious application of technology.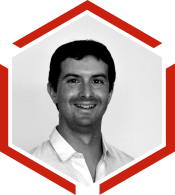 dipl. Masch.-Ing. ETHZ
born 1981